Hotels in Kiev
Kyiv is one of the most beautiful cities in the world. You can see Ukraine from each corner, but if you haven't visited Kiev yet - you missed all of Ukraine's beauty. But to have a comfortable vacation or business stay in this country, you have to choose hotel wisely. We made a list of hotels that you may like, including 5 stars and the most comfortable conditions of living and 3-4 stars and cheap stay. Choose wisely and don't be greedy - hotels in Kiev sometimes offer European services. Not all of them, of course - but if you make the right choice, you will definitely enjoy your stay in Kyiv and have only the best memories of your trip. Don't forget to ask our girls to accompany you in this trip - they will make your hotel stay even more tempting and seductive.
If you want to stay near the center of Kiev, you should prefer 5 stars Opera Hotel. It's also called boutique-hotel for it's quality and sense of style. Opera can offer you antique furniture in each hotel room and full pack of additional services, starting with fashionable restaurant and ending with perfect SPA and gym. The parking in hotel is absolutely free. You can also look for the suite you like - some of them hold plasma TV and interior created by high-class designers. Opera is situated on Bohdana Khmelnit'skogo street. Cost of numbers vary from 250 dollars to 1000 dollars per night.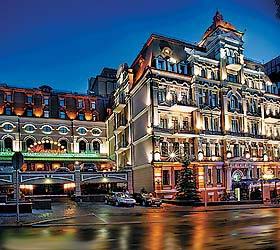 The other 5 stars hotel, Fairmont Grand Hotel, is pretty close to the river station in Kyiv. You can get to the railroad station fast - it's only 4.5 km far. The hotel is quite charming and really luxurious, with beautiful rooms and really well-bred staff. Most of the rooms are luxe, there are really no economy rooms at all. But for your money you get the highest service possible, with all the perks of luxurious hotel. Breakfast is included in your payment for room. You can pay from 400 to 900 dollars per night, choosing your level of comfort.
If you are willing to stay only in 5 stars hotel and want the maximal level of comfort and luxurious treatment, you should consider staying in one of perfect suites in InterContinental Hotel. This hotel is well known in Kyiv, and many of our clients choose it for their stay. Administration always makes quality tests to find out if the staff is behaving well with visitors, so you can be sure - you will find only the best treatment in Intercontinental Hotel. You can use their spa-center services and also visit one of the perfect restaurants situated within this hotel. And if you don't feel like going anywhere this night, great room-service will provide you with anything you may want or need. InterContinental is situated near the Postal Square. The price of stay can vary from 400 up to 800-900 dollars per night.
Also one of well-known hotels is Premiere Palace. 5 stars, full service, classical style of room interior, best furniture in rooms, cabaret-lounge to visit at night or in the evening Everything a man could possible wish - you can find it there. And oh yes, lots of additionally charging services - like massage, room service with food and shopping you need and stuff. Gym is absolutely free and open 24/7. You can visit it whenever you feel the need to train. Prices are not as high as in opera hotel - the most expensive room will cost you nearly 800 dollars per night. Come visit Premiere Palace!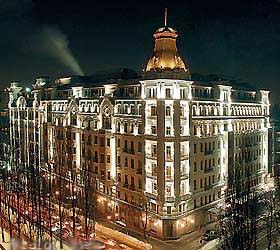 If you want to stay in center of Kyiv, but hesitate to pay too much, choose one of the rooms offered by Khreschatyk Hotel. As you can see from the name of this hotel, it is situated right in the center of city, on the main street. It is 4 stars hotel, but still one of the best and the most famous in this category. Free wi-fi and full TV set, air conditioning system and phone in each room, swimming pool for the visitors and possibility to visit one of the largest poker club in Ukraine. Also you have the ability to visit Buddha Bar - perfect lounge bar with Asian cuisine and DJ's music. Rooms are not too expensive - their cost vary from 150 up to 350 dollars per night.
Another 4 stars hotel is Raddison Blu Podil. As you can find out from name of this hotel, it is situated on Podil, one of the most beautiful districts in Kyiv. You can use free WiFi in numbers and lobby of this hotel or join the trainings in free fitness-centre (but only for hotel visitors!). The rooms are sound-isolated, so you can feel comfortable when asking our girl to come for a date. You can use free cosmetic kit and feel more comfortable in your own bathroom with shower cabin. President Lux Room contains two bedrooms, living room and also a mini-kitchen to cook on. Free laundry wash will make your stay even easier. Cost of rooms may differ from 300 to 1300 dollars per night.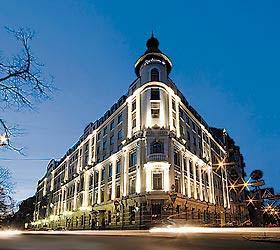 You can also viit 4 stars boutique-hotel Riviera on Podil. If you like beautiful rooms with great furniture and interior - it will be the perfect choice for you. Riviera holds unique suites and offers clients mini-bars, beautiful and stylish interiors of rooms and perfect room service. Air conditioning system works in each suite of this stylish hotel, making you feel even more comfortable. For businessmen who stay in this hotel they offer few conference-halls. Also if you're allergic, Riviera can offer you one of the rooms in special format - for allergic people, without anything that can make you feel sick. Cost of suites may differ from 200 up to 450-500 dollars per night.
If you're interested to stay in one of the newest hotels in the city, welcome to new 4 stars Alfavito! Free Wi-Fi in each room, air conditioning system, TV with flat screen, classical furniture and big windows - that's what makes Alfavito a great choice for the person who wants to stay in some modern yet very comfortable hotel. It is situated near the Olimpiyskiy sports centre, so you can easily walk to the city center by your own legs. All the rooms are cozy and stylish, so you can easily have some rest and feel yourself comfortable. You can also work with a working table offered in each room. Costs are very democratic and vary from 200 up to 400 dollars per night.
If you want to save your money, choose 4 stars hotel next to railroad station. We're talking about Sofiivsky Posad hotel, with elegant rooms and beautiful interior. This hotel is know for the perfect service - all of the staff members are well schooled to bring the best impressions of your stay to you. Each room has beautiful furniture and decorated with light and warm tones. Spa-center in the hotel holds different swimming pools and perfect hair, cosmetic and dressing artists. You can be treated like a movie star in this Spa. The restaurant of this hotel holds only white furniture to make it even more unique. The most expensive room will cost you 200 dollars per night - it's honeymoon lux with free fruit's and flat TV screen for you. Hydromassage baths, air conditioning system - all for your comfort and for you to feel special.

Our list of hotels is not complete, but these are the best ones - the hotels you will really feel comfortable in. They are beautiful and they will make your vacation or business stay one of the best that happened in your life.