Phillipe
19.01.2017
Mon Cher Lesia From what I have read you very sporty.Alas am not :( I am paraplegic and overweight to boot. Do you enjoy gentle slow love making? I am not fast paced and energetic.... But I do have good stamina!! Does that sound good? I seek a romantic weekend with you. What say ? Phillipe
Answer: Lesia will be more than happy to see you. She believes slow love making is always better, because you can prolong the pleasure you're both having and this is just terrific. Also always open to have some romance in life, especially for the whole weekend :) She's waiting for you, don't take too long!
---
Lewis
18.01.2017
Doesn't she offer massage??? How come? And how's she as dominatrix
Answer: she loves doing unprofessional erotic massage and she can do it for you if you'd like to. She's also not professional in dominating, but she likes doing it and she would like to practice. So if it's fitting for you - we are waiting for your call.
---
28.12.2015
She's very sporty, and I even felt ashame for not having that tone. She can go on for hours in bed without any complaints. And she's REALLY sexy. I asked her to take some of her hot toys to our meeting, and she did that. That was the spicy note of our sex - I loved watching her playing with that thing in her pussy and moaning... Well, you can just imagine. I was eager for her body and I had everything I wanted and more. I can totally say that Lesia is worth her fee.
---
Martin
18.09.2015
The best sexual help if you need it! Absolutely stunning when it comes to undressing, she is just perfectly built and also really cares a whole damn lot about her body, it's in perfect shape. Breasts could be bigger but they are not fake which is a huge plus for me. A great sucker and - the greatest thing about Lesia - naturally in love with sex, genuinely nymphomaniac and restless. You can't find any better!
---
Steven
11.11.2014
I met Lesia last Saturday. She's perfect, in every way. Good manners, perfect body, engaging smile, she's also very open-minded and spontaneous. Her english is not so bad and you can have a real conversation. I loved particularly her sweetness and her capacity to satisfy all my desires. Guys, don't hesitate : book a couple of hours with Lesia, you won't regret !
---
Aidan
06.09.2014
What can I say about Lesia? Absolutely gorgeous in every way. One of the previous reviewers commented on her English but she has obviously being practicing, it is extremely easy to have a conversation with her. I was with her a week ago for a dinner date (4 hrs) and again today (2 hrs). Thoroughly enjoyed every aspect of her company. Next time I will need to bring more money and book her for the night. I am looking forward to waking up next to Lesia. Lesia loves her job and this means she is good at it and is always smiling. And what a smile!. Cannot recommend her highly enough. Really disappointed I have to leave Kiev and my darling Lesia behind. Until next time, my dear :-)
---
Kay
14.06.2014
Lesia is surprising in everything. She was the first escort whom I didn't really want to try basing on pictures I've seen, but she was free and we met and whoah... She's hot and sexy! Beautiful legs, perfectly shaped body. I liked her, she was really stunning. Second surprise was about quality of sex. She's really restless as it was mentioned before. She won't give you a break until you're totally physically and emotionally satisfied. Guess she should be recommended!
---
D
14.06.2014
I had Lesia a few months ago and she was awesome. I'd like to order her again soon with another girl. Would you be able to include "cum on face" and "cum in mouth" in your search criteria, so that I don't have to check every girls' profile? Thank you!
---
F.
21.05.2014
Lesia is fun to have sex with. Very easy-going, too bad she doesn't know english enough to communicate on advanced level, think she would be really great at talking. But that's fine - we just had much more time to explore each other's bodies. And I liked what I've seen, she was looking really flawless, very sporty and beautiful body. She's restless in sex and I value that really much. Good girl!
---
Jeremy
16.03.2014
For those who love sporty ladies, Lesia will be an ultimate choice. I've searched for the lady who knows what training is, because I am sporty myself, and I love well-shaped bodies. Lesia works well in the gym, and it can be seen when she gets naked. What about sex... Sex is fun because she knows how to use her muscles and how to give pleasure to men. She's not rushing, she likes to take it slow, I had to take additional hour to get some real pleasure with her, but believe me, it's worth it.
---
Lesia
04.03.2014
Here it is - my new artillery :)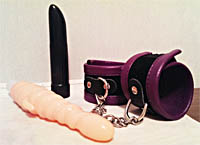 ---
D
17.02.2014
Lesia is a petite, kind, tight little girl who will not disappoint you. I recently ordered her for three hours + slave and she happily fulfilled all of my wishes. I still remember her sweet, smiling face as I full enjoyed all of the services she offers. Wow!!
---
C
12.01.2014
Leisha is a stunning beautiful young girl who probably most be one of the agencies best girls. When you meet her for the first time you will be supriced that she is so petite and much more beautiful than the picture on here profile. She looks like a super hot latina and you melt directly about her nice approach. It is hard to let your eyes to not look here in her wonderful eyes. Here body is like silk and she nows how to use it to make you in heaven. It is very hard to let this girl leave you and I wish I would meet here again. If you like a tight girl who is amazing in all ways she is the one you shall meet. If I had to pay 1000 US dollar per hour for this girl it have been worth every penny. I wish you all the best and wish your dreams comes true and I hope to se you again. Hugs and kisses to you / C
---
Massimo
12.12.2013
For those who love crazy ladies, this is the one! She is absolutely crazy and does everything perfectly in bed! She knows how to seduce! She knows how to bring pleasure! She knows how to do everything that men admire! She is trained one, super soldier of love! Completely untiring! Tried taking her out for a night! She doesn't know what "tiredness" is! I recommend Lesia! Bella!
---
Send review