INCLUDING
EXTRA CHARGES
| | | | |
| --- | --- | --- | --- |
| 1 day : | 1200 $ | 34320 UAH | 1018 € |
| 2 days : | 1800 $ | 51480 UAH | 1528 € |
| 3 days : | 2400 $ | 68640 UAH | 2037 € |
| 4 days : | 3000 $ | 85800 UAH | 2546 € |
| 7 days : | 4500 $ | 128700 UAH | 3819 € |
Houston
06.03.2016
I called Gia to request a lady for the evening.....she was not free and Gia suggested Ilona .....and what a suggestion it was.... Some girls are not as beautiful as their photos are.....for Ilona, she is more beautiful than her photos..... When I opened the door of my flat, I lost my breath because Ilona is so beautiful ........ Actually stunning........after chatting a bit, I discovered how smart and intelligent she is. I was very impressed with her beauty and intellect. Her English is perfect. In the bedroom, she is unbelievable!!!!.... Amazing!!!! She knows how to satisfy and she is one of the sexiest woman I have ever known ......very opened minded.... I believe she truly enjoys what she's doing....... You will never regret meeting her.....you will never forget her....and if you are like me, you may fall in love with her...... When you meet her you will understand what I mean...she is not a "10"....she is better than that!! Houston
---
John
18.08.2015
I really should not do this, because Ilona is already all booked up and very difficult to get hold of ! I had to call and ask for her several times until I finally got lucky, and she told me people book an appointment with her three days in advance. No wonder. She is perfect. Face. Body. Great sex. Excellent manners. A real lady. Women like this make life worth living! I have been a client of this agency for years, and while I have met a few wonderfully sexy girls here, Ilona is a rare gem, a full package.
---
ADMIN
06.08.2015
You can see all of Ilona's sexy toys here.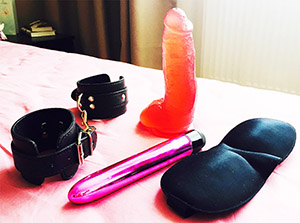 ---
19.03.2015
With Ilona I felt really happy... Unforgettable night of pleasures! I paid 1000 dollars but it was fully worth it! She's the best escort I've met in my whole life! I won't forget her and don't think I will be able to choose another girl in nearest future! Because Ilona is not only hot and beautiful, she's a wise woman! She knows everything about how to become a best lover, how to impress, how to create a perfect spirit of romance. She got everything I was looking for - sex techniques like a full-on whore and a class of the best woman in the world. She's a true lady, but you will forget about it once you step to the bedroom with her. It worked for me. I enjoyed Ilona.
---
Franco
15.01.2015
I wanted to thank everyone who asked Ilona to join this agency. I can't understand why she's working as a call girl. It's the lady that can definitely strike you as your future wife kind. I can see her as a businessman wife or a lady with her own business. But still she's here, and she made my night brighter and brilliant, so that's why I want to recommend her to other gentlemen. Ilona is a blonde, but she's not a stereotypical dumb blonde. She's really smart, she has high standard ethics and she has her beautiful and stylish way of dressing. Her behavior in bed is a bit timid, but still she knows ways to seduce a man. A night with Ilona will be a life-changing experience for you, that's for sure.
---
Send review